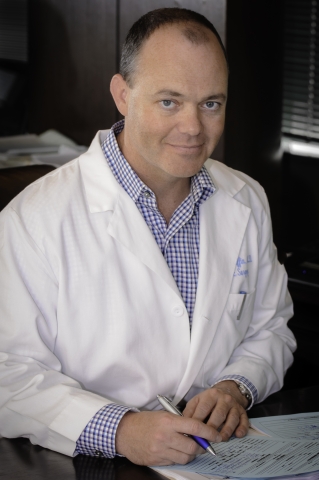 Plastic Surgeon In California John R. Griffin, MD offers all aspects of plastic surgery including breast augmentation, tummy tuck and facelift surgery.
John R. Griffin, M.D. is certified by the American Board of Plastic Surgery, the only specialty board for Plastic Surgeons that is an official member of the American Board of Medical Specialties. He performs aesthetic and reconstructive surgery at the Mills-Peninsula Hospital system in San Mateo and Burlingame and the California Pacific Medical Center in San Francisco. Aesthetic surgery is also offered in the doctor's accredited office surgery suite in San Mateo. For overnight stays after surgery, the office and operating room are conveniently located adjacent to Mills Hospital.
In medical school, Dr. Griffin received the Southwestern Medical Foundation Academic Scholarship for academic excellence, and subsequently received his plastic surgery training at the prestigious U.T. Southwestern Medical Center, one of the finest plastic surgery programs in the world. His training was guided and supervised by leaders in the fields of breast surgery, body contouring, rhinoplasty, aesthetic facial surgery, and reconstructive surgery. After residency, he completed additional fellowship training in microsurgery and hand surgery.
Dr. Griffin is one of the recipients of the 2003 Plastic Surgery Educational Foundation Essay Contest Clinical Research Award. He received this award for his work on "Nasal Reconstruction – Beyond Aesthetic Subunits," and received the 2002 Excellence in Research Award from the Department of Plastic Surgery. Dr Griffin has written book chapters as well as manuscripts in the Journal of Plastic and Reconstructive Surgery. His published work includes papers on rhinoplasty (aesthetic nasal surgery), nasal reconstruction, rhinophyma, silicone breast implants, and reconstructive surgery.
Dr. Griffin serves on the Editorial Board of Selected Readings in Plastic Surgery, and recently co-authored the Nasal Reconstruction and Microsurgery editions. Dr. Griffin has experience in all areas of aesthetic surgery, including facial rejuvenation, endoscopic plastic surgery, breast surgery, implant surgery, and body contouring. Dr. Griffin has a specific interest in nasal surgery, both aesthetic and reconstructive.
Dr. Griffin is a Diplomat of the American Board of Plastic Surgery, a member of the American Society of Plastic Surgeons, American Society of Reconstructive Microsurgery, AMA, and the San Mateo Medical Society.
Dr. Griffin is committed to the highest level of patient care and attention to detail. He works closely with patients to establish rapport and trust, whether the patient seeks cosmetic or reconstructive surgery. Consultations are thorough and compassionate, during which the patient and the doctor work together to exchange information and achieve specific aesthetic goals.
Click here to download Dr. Griffin's CV
Visit Dr. Griffin's Google profile
Save